Designed by PGA captain and PGA master professional Richard Bradbeer in 1992 the Garstang course is now a well established and popular 18hole parkland course.
The course winds its way along the Rivers Calder and Wyre on the front nine offering some pleasant distractions and challenges to play around. the back nine opens up with a few long par 4's and a par 5 to test your drive whilst asking the best of your putting game with some undulating greens.
The par 68 course is 6115 yards long and is designed to accommodate the beginner with open fairways and forgiving rough, the intermediate golfer is still met with a challenge with water and bunkers among the hazards strategically placed to ensure the course is no easy round. Testament to this is that the course par is not often beaten.
Now an established course with perfectly manicured green and excellent drainage Garstang is a course which can open all year round and can be playable within only 30minutes of heavy downpours. With enough undulation to create interest but not so much that you need your climbing gear this is a great allcomers course.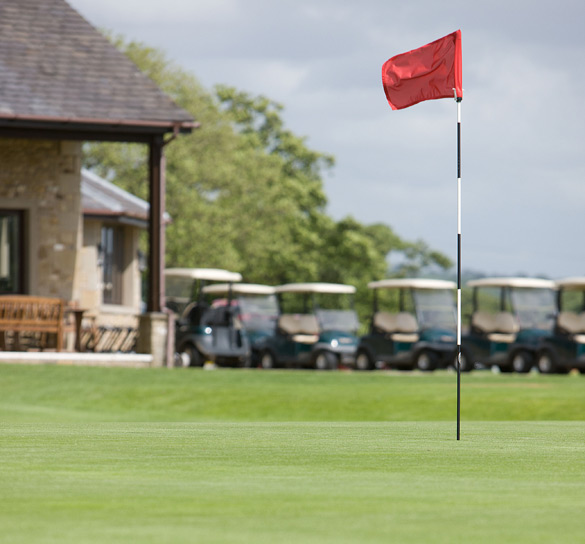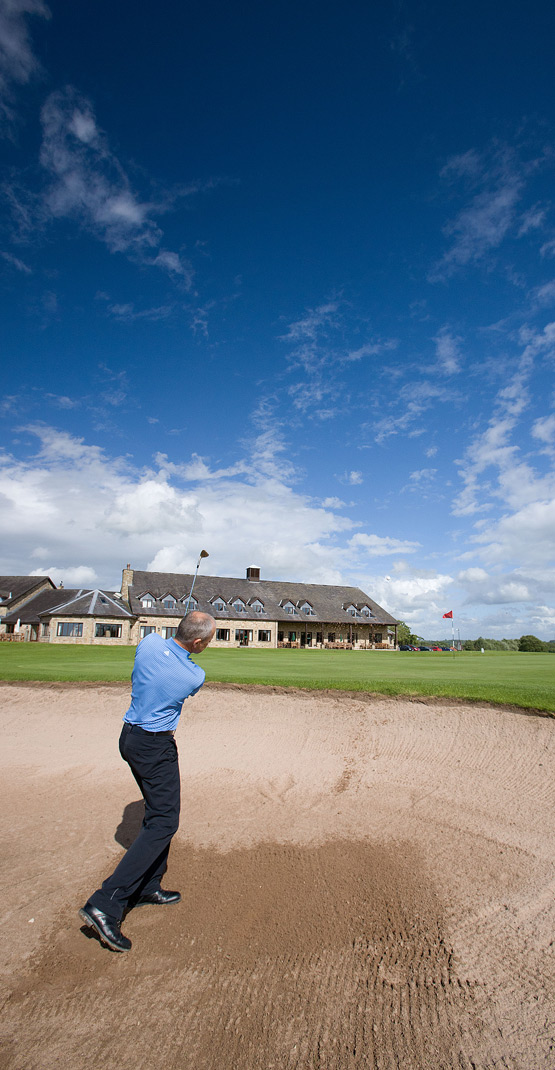 Hole 1 (340 yards, Par 4) - A straight away par 4 that eases you into your round of golf.
Tip-A good straight drive leaves a short iron into a two tier green. A great birdie chance.
Hole 2 (375 yards, Par 4) - A slight dog leg right with a generous fairway to entice your drive.
Tip-Hitting the fairway and avoiding the trees down the right leaves a mid iron into a large green. A large bunker awaits a miss hit second!
Hole 3 (180 yards, Par 3) - The first of a trio of challenging par 3's on the front 9. At 180 yards long with the river calder only yards left a par is a great score.
Tip- A long iron avoiding the river left and hedge right is a must, being short isn't a bad play.
Hole 4 (355 yards, Par 4) - A challenging dog leg left par 4, a solid drive leaves a mid iron into a flat green.
Tip- Take the corner on, there is more room left than meets the eye. But beware the river follows you all the way up the hole.
Hole 5 (175 yards, Par 3) - The second par 3, it may be short but left is wet and a large drop off right makes a par well deserved.
Tip- Choose your club wisely and take great care on the severely sloped green.
Hole 6 (440 yards, Par 4) - The longest par 4 on the front 9, a bogey isn't going to ruin your round.
Tip- A drive down the right is the safest play and an accurate second to avoid the bunkers. Don't over club as the river Wyre makes its appearance on the golf course.
Hole 7 (170 yards, Par 3) - The last par 3 of the front 9, take enough club to carry the river and read the break correctly on this left to right slopping green.
Tip-With so much room right, the river needn't be a factor.
Hole 8 (380 yards, Par 4) - A mid length par 4 with room a plenty down the right. Only a mid/short iron second.
Tip-After finding the fairway take care there is a large bunker short and pot bunker right.
Hole 9 (320 yards, Par 4) - A great birdie chance to finish the nine, straight up to a generous flat green.
Tip-Avoiding the trio of bunkers left leaves only a short iron and then let your putter get to work.
Refreshments...
Hole 10 (375 yards, Par 4) - A challenging par 4 with out of bounds left and fairway bunker right. Only a mid iron is required to find the green.
Tip-Straighter is better than longer hit the fairway and a par is on.
Hole 11 (420 yards, Par 4) - A long par 4 with a pond down the left after a good drive a mid iron to a wide slopping green.
Tip-Keep your tee shot right and if the pin is on the right hit enough club to avoid the deep bunker.
Hole 12 (530 yards, Par 5) - The only par 5 on the course, long and straight is a must, 5 is always a good score.
Tip-A true 3 shot hole don't go for length off the tee as the 3 bunkers may prove an unwanted visit.
Hole 13 (195 yards, Par 3) - A tricky par 3 with drop offs both side and long. Choose your club wisely and a birdie is not a pipe dream.
Tip-The green sits downhill so often this hole plays a little shorter than the yardage.
Hole 14 (380 yards, Par 4) - A picturesque hole with the river Wyre running down the left and Lancaster canal aqueduct behind the green.
Tip-Not a long hole so take accuracy down the right as the best option. Beware the large bunker short!!
Hole 15 (445 yards, Par 4) - A toughie!! Up hill tee shot and a slight turn left makes this one of the hardest holes on the course. A par is pleasing score.
Tip- A long drive down the right leaves a mid/long iron second. Distance control on your second is key as a large ridge in the green makes putting a challenge
Hole 16 (145 yards, Par 3) - The shortest hole on the course, only a short iron to a flat green, a birdie is on.
Tip-Keep your tee shot under the hole and tap in for 2.
Hole 17 (415 yards, Par 4) - An uphill par 4 that can bite back!! Beware the pond on the left and a very tricky green.
Tip-After finding the generous fairway take enough club for the uphill second. Finding the right level on the green makes life so much easier.
Hole 18 (465 yards, Par 4) - Get the drinks in. The longest par 4 on the course. A good drive still leaves a long second to a well protected green; don't think a 5 is bad score.
Tip-This may be a 3 shot hole for most so don't think distance is key, a one putt par will make your beer taste great.